FIRST MEGRELIAN LANGUAGE MAGAZINE ON SALE NOW!
The NGO 'Megrelian Language Association', which aims to preserve its local language, culture and traditions, has released the first Megrelian-language magazine, 'Sqani' ('Yours') and it is already on sale.
The word 'Sqani' is translated into Georgian as 'Yours.' It will allow readers to read articles on history, science and culture in Megrelian. In addition, translations of famous works of world literature can be found in the magazine.
'Sqani' was supposed to be released in March, however, the date was delayed due to restrictions imposed as part of the fight against COVID-19.
"Following the gradual removal of the restrictions, we were able to partially solve the problems related to the sale of the magazine and it is already on sale in Tbilisi! Negotiations are still underway with retail outlets in the Samegrelo region, and very soon the magazine 'Sqani' will appear there on the shelves, too," note the publishers of the magazine.
Residents of Tbilisi can buy the magazine in the shop 'Shaqro Babua' ('Grandpa Shaqro') on Chavchavadze Avenue #17b (Phone number: 0322 47 55 35).
It is also possible to subscribe and purchase the edition online. For this, you need to write to the store on their Facebook page: Grandpa Shaqro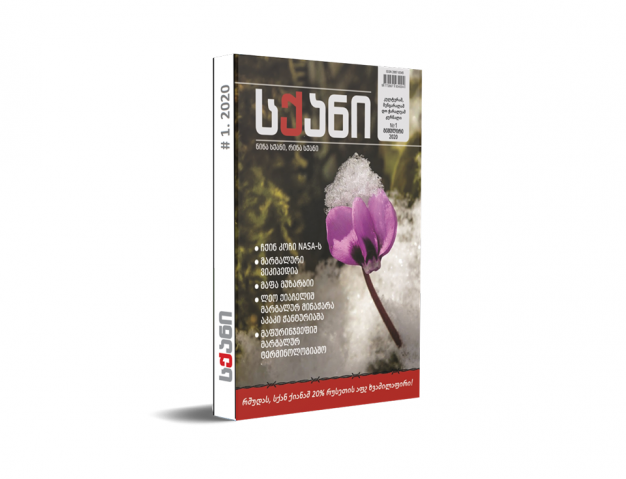 "Once again, congratulations to everyone on this remarkable event and look forward to your feedback. We hope you enjoy our magazine!" say the representatives of the NGO.
Givi Karchava and Giga Kavtaradze are the founders of the 'Megrelian Language Association.'
Karchava said he wanted to publish this magazine for a long time, however, due to financial problems, he has only been able to start working on it with friends last year.
Samegrelo, one of the most beautiful regions of Georgia, is distinguished by many unique features which attract foreign and local tourists. Its ancient history is what makes the region even more attractive.
Samegrelo boasts old sites, rich language, delicious cuisine, sweet Mingrelian songs and unique traditional architecture.
Megrelian is a Kartvelian language spoken in western Georgia (regions of Samegrelo and Abkhazia).
The language was also called Iverian in the early 20th century. Since Megrelian has historically been only a regional language within the boundaries of both historical Georgian states and modern Georgia, the number of younger people speaking it has decreased substantially, with UNESCO designating it as a "definitely endangered language".
Megrelian is generally written with the Georgian alphabet but has no written standard or official status. Almost all speakers are bilingual; they use Megrelian mainly for familiar and informal conversation and Georgian (or, for expatriate speakers, the local official language) for other purposes.
By Ana Dumbadze
Main photo: Georgian Alphabet by Nino Kvavilashvili