SHOPPING FOR ART IN TBILISI
By Lucy Papachristou
In recent years, Georgia and its capital city of Tbilisi have made appearances on many top travel destination lists, including in The Guardian and Forbes, who claimed in 2018 that Berlin was "out" and Tbilisi was "in." Tbilisi has a reputation as an artistic city, and as the younger, post-Soviet generation comes of age, a new era of creativity is dawning. Many galleries have been listed over and over in "best-of" lists for tourists and art-lovers, but in truth, the city is overflowing with galleries, and more are opening their doors all the time. Here are a few of those places that you won't find on other lists: smaller, family-own galleries tucked away on side streets, and some newly-opened ones just starting to make big waves.
VERE GALLERY
If you ask most Tbilisians to name the most artistic district of the city, the place most artists call home, they'll probably answer Mtatsminda or Sololaki. And they wouldn't be entirely wrong; those neighborhoods, riddled with little shops selling fresh produce, cheese and bread, second-hand clothing stores, and cozy cafes, are indeed home to many artists and their
studios. The classic, Old Tbilisi feel of the wooden balconies, narrow, dusty streets, and crumbling three-story buildings appeals to the artist in all of us.
Art, too, though, has a place in Vake, a quiet, leafy neighborhood that has the reputation of being somewhat "posh" or "bourgeois." Just off busy Petre Melikishvili Street, the Vere Gallery is technically in Vera, but is just over the border from Vake proper. The gallery was started in 2002 by a husband and wife team, who still own and operate the business. The couple buys and sells a mix of classical and contemporary Georgian art. This February they hosted an exhibition of the Georgian-born Polish painter Henryk Hryniewski, who helped found the Georgian Academy of Fine Arts, which became the Tbilisi State Academy of Arts, and was killed in 1937 during Stalin's Great Purge. The gallery showed 28 of Hryniewski's paintings, some of which the Georgian National Museum is trying to acquire. Vere Gallery also hosts works by the minimalist Gia Gugushvili, the actor and painter Janri Lolashvili and several paintings by Keti Davlianidze, who recently had an exhibition at the gallery of her large-scale paintings of Abkhazia.
Prices for individual pieces range from 100 GEL to 40,000 GEL. In addition to its art space, Vere Gallery manufactures frames in a shop across the street that has been in operation for some 70 years.
ART GALLERY VAKE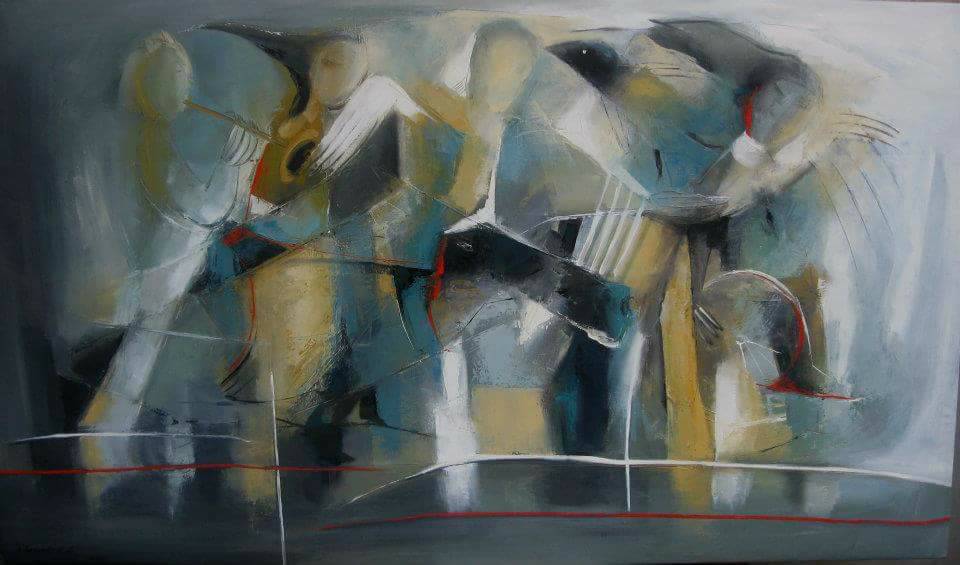 fifteen-minute walk west of Vere Gallery is Art Gallery Vake, a small shop tucked in the corner of a building on leafy Irakli Abashidze Street. The gallery was founded in 2015 by Eka Reisner, a Georgian woman who married a German. Reisner curates her gallery based on her personal taste, and there is a great variety of paintings, sculptures, Tiffany glass designs, handmade masks and jewelry filling every surface and wall of the 35-square-meter space. Reisner lived in Germany for ten years, and in the past has held exhibitions of German artists in Georgia. The space, which hosts two exhibitions per month, currently has pieces by painters George Areshidze and Maka Zedelashvili, among others. Prices range
from 100 GEL to 10,000 GEL.
DRY BRIDGE MARKET
Dry Bridge Market may not seem like an obvious place to go to pick up art, but among the battered guitars, electrical parts, spigots, rock and roll records, and Soviet canteens, military pins and tchotchkes, there are plenty of artistic gems to be found. More than a few vendors sell handmade bags and small oil paintings. The Dry Bridge Market is probably not the
best place to buy a high quality painting, but there are a few interesting pieces to be found if you don't mind wading through the crowds and hawkers for an hour or so
GALLERY 27

While Gallery 27 is in no way "off the beaten path," it does have more of a reputation as a souvenir or craft store, not an art gallery. But if you're a traveler with a small suitcase or not looking to spend a great deal of money, Gallery 27, a charming space located on a narrow street in Sololaki at the foot of the Kartlis Deda (Mother Georgia) monument, is a
good place to head to. The gallery is housed in one of the many beautiful, old wooden homes that make up the neighborhood's landscape. A striking multicolored stained glass window encloses the staircase up to the gallery, and a charming garden lies below. Gallery 27 has more of the feel of a store than an art gallery, and there are dozens of unique
items, most of them modestly priced, for sale: handmade bags, tapestries, hats, mittens, jewelry, notebooks, felt toys, ceramics, traditional woodwork, and other craft items abound. It's the perfect place to pick up a Georgian-made craft product, either to bring home or to gift to someone as a souvenir of Georgia.
UNTITLED GALLERY

One of the most exciting new galleries in Tbilisi is Untitled Gallery, which opened only this March. Located in a beautiful, crumbling building in the heart of Sololaki, home of many young up-and-coming artists, Untitled has already established itself as a repository and incubator of dynamic works of art. The gallery specializes in emerging and established
contemporary artists from South Caucasus, and hopes to create a pan-Caucasian community of creatives. The gallery's opening show included a series of 20-30 photographs by artists from all over the Caucasus, including parts of the Armenian Karen Khachaturov's series on his grandfather after the latter was diagnosed with bladder cancer in 2017. (Khachaturov's works will be shown in the International Center for Photography's "Projected" series in New York City.) Also on display were large, brightly-colored paintings by Salomeya Bauer, who is from Tbilisi.
Many of the works are on sale for under 500 GEL, but even if you are not inclined to purchase anything, stopping in at the gallery is always a pleasure: admiring the elegant staircase on the way up, the interesting works housed inside, and gazing out onto the rooftops of Sololaki from the balcony.