Discovering Dedoplistskaro
Blog by Pam Kemsley Dugladze*
On a recent accessing of the Ministry of Health vaccination site, I discovered that apart from Svaneti, Dedoplistskaro was the next nearest place to get the recently-arrived Pfizer vaccination and so, having wanted to visit Dedoplistskaro for some time, I signed myself and my husband up for a Friday morning jab, with the idea that we could travel on Thursday afternoon and return on Saturday- after all, in the current travel environment this might be the closest we got to our summer holiday!
My husband's family is from Kakheti and so making a visit to Gurjaani or Telavi is not unusual for us; however, it had been some while since we had ventured into the south of Kakheti and I confess to being very pleasantly surprised at the openness of the countryside once we turned off the main road, firstly in the direction of Signaghi, and then in the direction of Dedoplistskaro. There was little traffic, making driving pleasant and allowing us to stop for photos in a way that on the other roads into Kakheti is significantly less simple.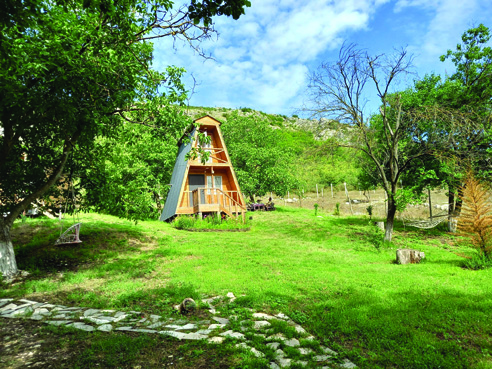 We made good time and arrived at Teo's Cottages before it started to get dark. Davit, our host, talked us through directions from the main road to the cottages and was there to greet us on arrival with a welcome suggestion of ordering us khinkali, khachapuri and salad from a local restaurant for our supper. Although small, our cottage had everything we needed and we thoroughly appreciated the private outdoor dining area that accompanied each of the three one-bedroom cottages.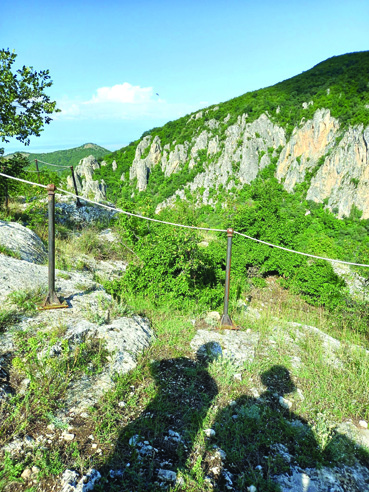 Having been concentrating on getting our vaccination, we had given little thought to what we would see in the local area as we were unsure about how we would be feeling. However, on returning to our accommodation with a spring in our steps, our knowledgeable and friendly host Davit informed us that Eagle's Gorge was less than a 10-minute walk from our cottages and we decided to go and have a look. Walking down the dirt road at about 4 o'clock in the afternoon, we were reminded that early evening is prime time for spotting eagles due to the warm air currents rising at the end of the day and creating ideal flying conditions for them eagles. Without even really meaning to, we set off along the top of the gorge where we found ourselves alone except for one other solitary hiker. For about an hour, we observed the soaring, swooping, and at some points parallel flying of what we identified as Eastern Imperial eagles above and along the aptly named Eagles' Gorge. We also spotted three black storks who seemed to have allowed the eagles to get in first. It's hard for me to describe the sense of privilege we felt in observing these majestic and endangered birds of prey and I cannot recommend this experience enough. However, at the same time, protection of the habitat of these birds is a concern for me. It is my hope that these great birds will continue to thrive here for years to come, but it must not be forgotten that these creatures are extremely sensitive to threats to their environment and the presence of humans. Whilst there are efforts to make people more informed and to create some basic infrastructure for visitors that does not impact on the birds habitat, it does appear that some land close to the mouth of the gorge has been sold privately, and in this case we must hope that the purchasers are aware of their responsibility for protecting the peace and serenity of the birds' habitat- as the old fable goes -don't kill the golden goose!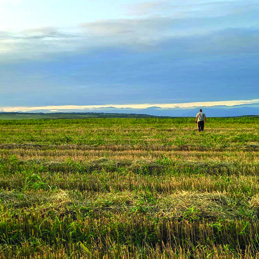 On our return journey, past the cows and sheep who seemed more numerous than people, we decided we must come again, with binoculars and a better camera, and make a visit to Dedoplistskaro's other famous landmark, Khornabuji Castle, located just outside the town. We saw it from a distance but a closer look, possibly a one-day hike via Eagle's Gorge, is going to have to wait for our next visit to this lovely, if slightly overlooked, corner of Kakheti. If you haven't visited this part of Georgia yet, put it on your list- just be mindful to leave only footprints!
*Pam Kemsley Dugladze is the Sales Manager at Travel Eurasia, www.traveleurasia.org