CHELTY WINERY'S QVEVRI SAPERAVI NAMED AMONG TOP 20 WORLD WINES AT DECANTER ASIA AWARDS
As it is widely known, Georgia is the homeland of wine and recent discoveries prove that it is the oldest wine-producing country in the world. Georgian wines have accordingly received a number of awards at international wine contests.
Yet another Georgian wine has caught the eye of foreign experts and wine enthusiasts .In one of the most prestigious wine tastings 'Decanter Asia,' Chelti wine received 97 points, a platinum award and "Best in Show" status. Accordingly, Chelti wine has once again entered the list of TOP 20 wines from around the world.
Decanter is one of the largest and most trustworthy wine competitions in the world, with jury members including leading wine experts. The Decanter competition is held at two locations each year - in England and in Asia. More than 3,000 wines from 37 countries from around the world were presented at the competition this year.
The jury members described Chelti wine as the best Saperavi in the history of Decanter, competing with the wines produced in Europe's leading classic wine regions.
The foreign experts note that the above proves that Georgian winemaking and Saperavi wine have unlimited potential to be the best in the world market.
"This is certainly the best Saperavi ever submitted to either DAWA or its London counterpart, the DWWA," reads the website of the Decanter Asia Contest. "It's a qvevri version, but remember that for red wine this marks a less consequential difference from conventionally vinified wines than do amber qvevri wines from conventional whites (because all red wines are vinified with their skins).
"The black-purple color is typical for young Saperavi - though the measure of this wine's quality comes with the fact that it's already three years old. The bubbling, swirling black-fruit aromas have a typical incense-like complexity, while its hugely energetic flavors, firm tannins and exuberant back palate are no less typical.
"Not just a copybook example of Georgia's greatest red grape variety, but a wine from the Caucasus to put up against the best from Europe's classical regions," reads the website of Decanter Asia Wine Awards about the Saperavi of Chelti Winery.
This important success made Chelti wine even more famous in the foreign market, while the company has been offering excellent quality wine to Georgian customers for over twenty years now.

GEORGIA TODAY spoke to Ann Mirianashvili, Chief Marketing Officer of Chelti Winery, who elaborated on the company's activities in Georgian and foreign markets, most notable achievements throughout its history and the recent success at large-scale wine competition.
Tell us about the history of Chelti Winery, its vineyards and products.
Chelti is a family owned winery which was founded in 2001. The wine complex is located in the Kakheti region, in Shilda village, Kvareli district. The Mirianashvili family has more than 100 years of winemaking history. Our mission as a family-owned business is to provide our customers with quality wines that are all hand-crafted locally. We take pride in selecting the best ingredients and using a traditional, hands-on approach to wine making that is guided by our talented winemaker every step along the way. It is our dedication to quality and process that results in our outstanding, award-winning wines that can be enjoyed by everyone. Today, the Chelti complex combines 80 hectares of territory, which includes vineyards, traditional and modern wine cellars and a tourist complex.
What features make your wine unique and distinguished from others?
At Chelti, we preserve 8000 years of unique Georgian winemaking traditions and pair them with the technologies of tomorrow. The location and microclimate of the territory play a big role in producing unique wines. Our winery is located under the Caucasus mountains, where we have created all the necessary conditions to produce premium products. We produce wine only from the grapes handpicked in our vineyards, which surround our wine cellar. Chelti winery is equipped with state-of art technology and a traditional Qvevri cellar, making wine quality control possible at any stage of wine-making. Chelti's wine cellar is located 7 m underground and holds temperatures between 12-16 degrees throughout the year, which is ideal for wine storage.
2019 was a very successful year for your company. Tell us about these achievements.
In 2019, Chelti wines received numerous awards at the most prestigious wine tastings of the world. Saperavi of Qvevri received a platinum award and Best in Show status at Decanter and Grand Gold at Mundus Vini, which included Chelti in the list of Top 20 from around the world. In addition to that, in 2019, Chelti received 10 gold medals in Japan, Germany, China and other countries.
How will the prestigious award from Decanter affect the future of your business? What are the company's future plans?
Winery Chelti is actively working in 10 Markets and is trying to position Georgian wine as a premium product. The Decanter Platinum award is proof that Georgian wine can compete with leading wines of the world. We plan to enter more countries and show them the full potential of Georgian winemaking.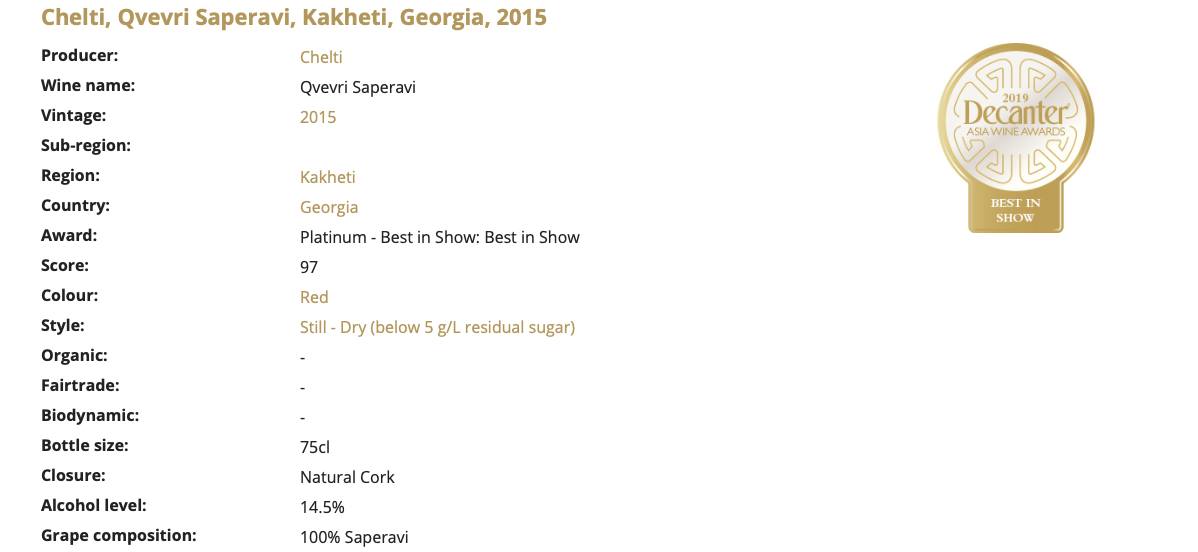 By Ana Dumbadze