AMBIENTE, FRANKFURT
Ambiente for Future Trends
Frankfurt is a city where new trends and innovations perfectly meet culture and traditions. Even the architecture that still has the smell of old times stands with pride in harmony with newly built high glass buildings. Frankfurt is a cosmopolitan city that is always moving forward, yet doesn't forget its traditions.
Frankfurt has lot to offer tourists and locals alike, with exciting exhibitions, sports events, festivals, and more. We won't waste your time by suggesting where to go or which museum to visit, which you can find on any website or in any Frankfurt guide, but we will tell you about one of the greatest fairs you can go to in Frankfurt: Ambiente – the biggest international consumer goods trade fair; a place where everyone and everything has a story; a place that is more than just a fair; a place where you can go not only for business but to discover unique products from 4,451 exhibitors from 92 countries and connect with more than 136,000 buyers from 166 countries. There is no better place to explore new trends, to feel the futuristic ambience, to initiate new business connections, increase knowledge and exchange information. 41% of the exhibitors are self-employed entrepreneurs. Ambiente gives you the opportunity to see and know how professionals care about their brand identity and at the same time how they manage to stay ahead and integrate into the modern world, how their products tell stories that inspire you, how important it is to stay connected in a digital world.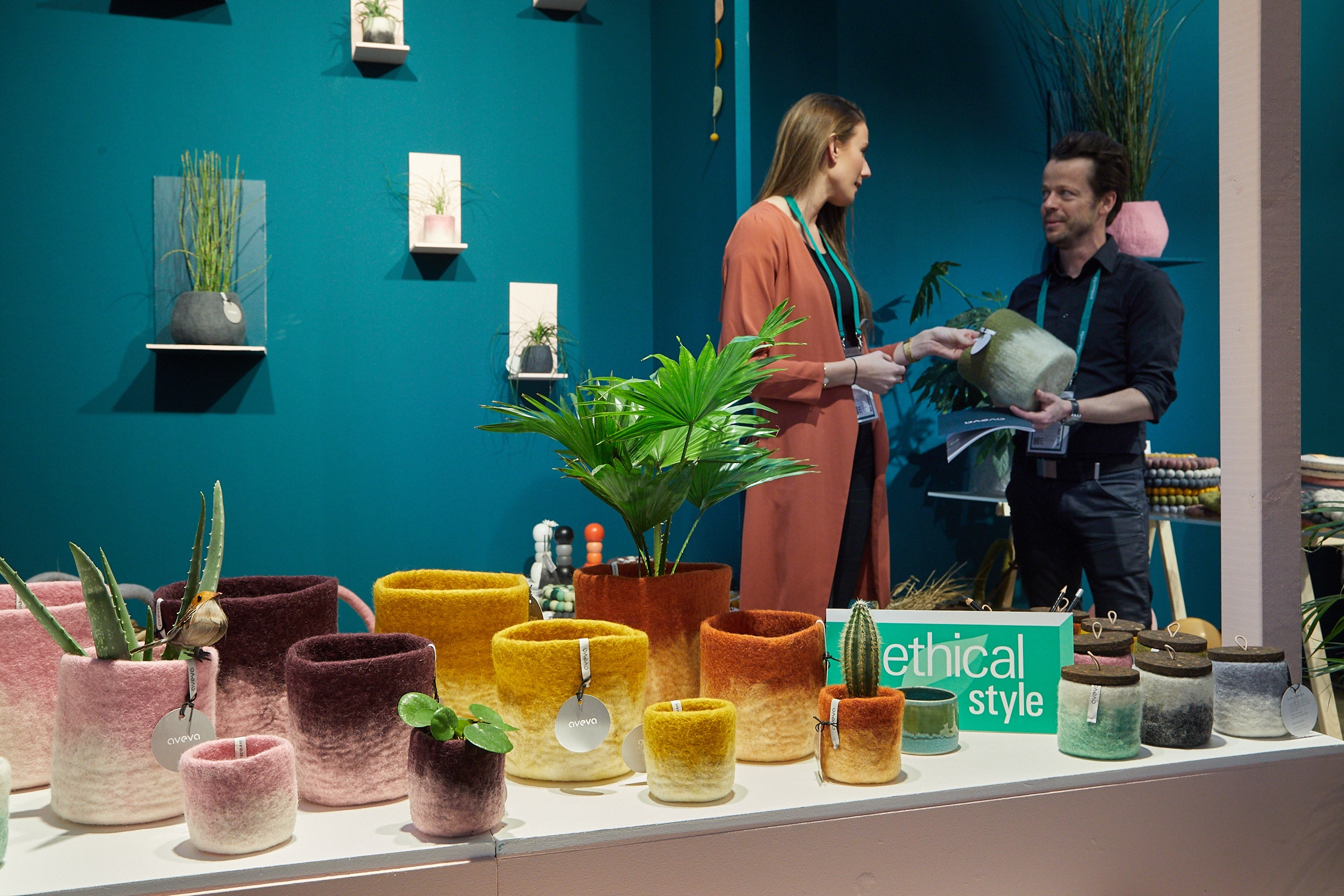 Messe Frankfurt Exhibition GmbH by Jean-Luc Valentin
As Messe Frankfurt has a great location and is easily accessible by any transport, it is not difficult to find, occupying an exhibition space of 306,500 square meters. Ambiente's super professional team takes care of everything - easy accessible corridors, hall to hall connection signs, informative materials, stunning decorations, beautiful music, a wide choice of cafes and relaxation points, convenient services, interactive performances, digital brochures and most importantly – well organized exclusive guided tours! This last offers in-depth glimpses into Ambiente trends and gives you the chance to meet in person the representatives of global brands, entrepreneurs and artisans, to see how their opinions vary and what their story is.
The press guided tour of the special exhibition "From Point of Sale to Point of Experience" with Wolfgang Gruschwitz was truly an inspiration. The tour started with Gruschwitz sharing his professional views and experiences how his company (Waketo Marketing Consulting) helps each retailer to successfully sell their products and interact with buyers. "You need to go deeper because you are not only a seller, but a consultant. This should be the main point in your mind when you sell. Digitalization in stores is the same, now retailers can make a whole performance in front of buyers such as cooking masterclasses, beauty trials and so on. So, they are not only deliverers of goods, but also advisors. You are not selling products, you are selling your advice. They can find any product through the internet, anywhere in the world, so you need to offer them special approaches, interaction, connection," Gruschwitz told us. "In future, very soon, from two to five years cash desks will vanish, people will go fully digital in payments, so you need to stay connected with buyers. Make a theme, make a story, and you will sell your product. The only real wealth in the world is not money but human relationships. We have to be connected, even in retail business".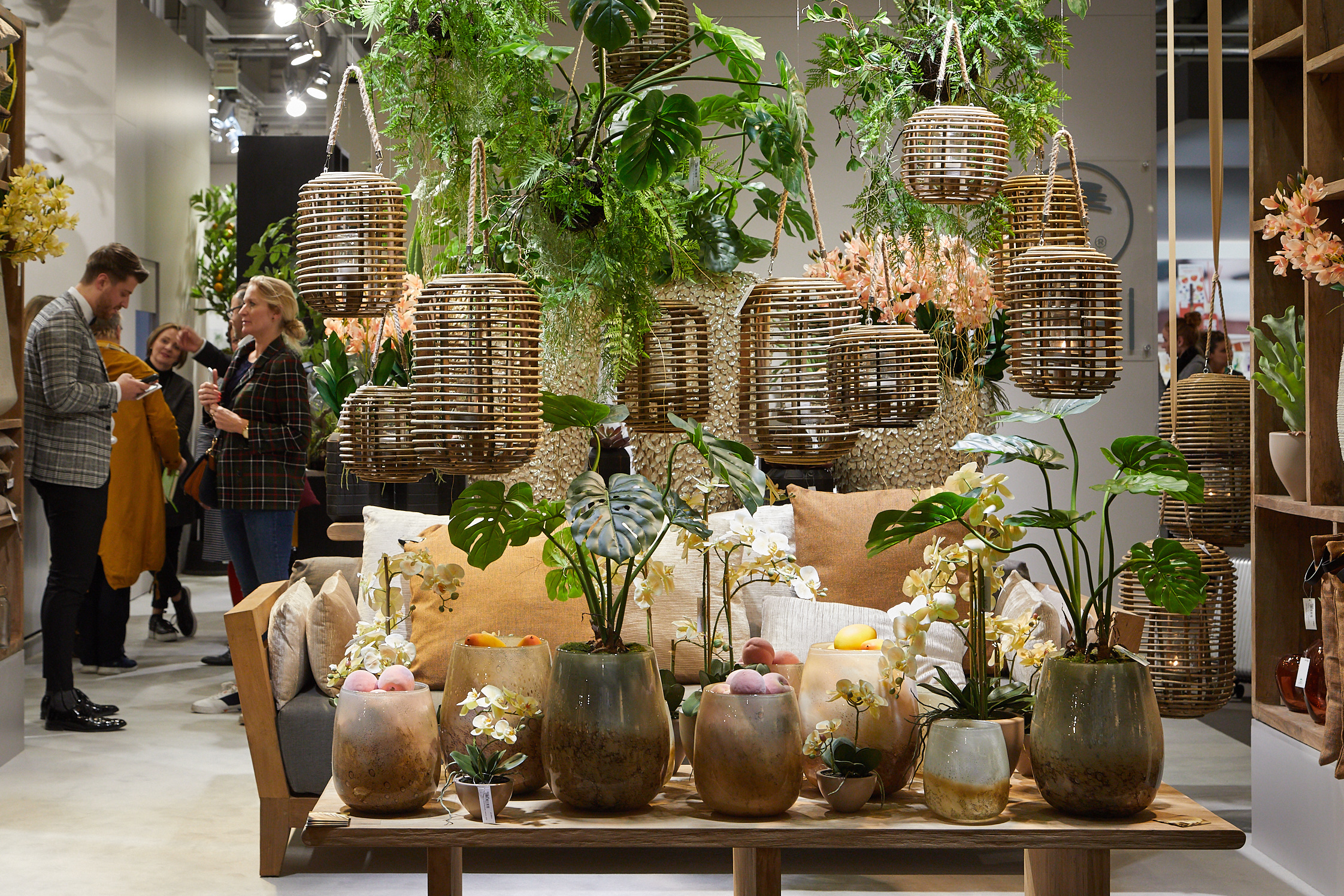 Messe Frankfurt Exhibition GmbH by Jean-Luc Valentin
The WHERE.GE team explored the world of future trends on three platforms: dining, living and giving at Ambiente 2019. Check out our top picks from Messe Frankfurt below.
After browsing through the numerous pavilions, you can already predict some of the future inspirational trends, such as minimalism in design, warm color palettes, objects without function, interactive goods that allows consumers to create their own stories. However, each retailer has their own concept and each of their products has a story.
Here are some of the highlights:
ROYAL DELFT
Inspired by the Dutch Golden Age theme year and driven by the desire to give the iconic Delft Blue by Royal Delft, in production since 1653, a contemporary look and feel, Royal Delft presents 'Proud Mary,' named after Mary Stuart II, the wife of Stadholder William III. Mary II was a great admirer and collector of Delft Blue in the Dutch Golden Age. The name Proud Mary is not a coincidence, it is the company's wish that Proud Mary become a modern-day collector's item, a contemporary icon of the Delft Blue by Royal Delft. Proud Mary is composed of four different elements: the skirt, body, the collar and the head. She is available in both the hand painted collection and the transfer collection.
Blue and white ceramics is the identity of the Dutch: they were proud to have them in the 17th century. Buyers can create their own identity; choosing from the various elements and creating a Proud Mary that best suit his/her taste. Most of the ornaments on the skirt are from the 17th century. Visitors had the opportunity to see the artist of Royal Delft at Ambiente and the process of painting a huge EUR 8000 vase.
NUDE
20 different international designers work for the Turkish brand Nude – the third biggest glasswork company in the world, whose identity is Simple is Beautiful. Their glass works aim to simplify consumers lives, with simple forms but with life within when you touch them. Nude glass work includes many different items, among them transparent vases with original forms that you can combine for an optical illusion. The designers' inspiration comes from Iris Apfel (97), an iconic figure in fashion and lifestyle.
SKAZA
The Slovenian brand presented their innovative product at Ambiente – a beautiful and efficient kitchen composter of the next generation, the Bokashi Organko 2. With this composter, your kitchen becomes a place of green thinking. Using powdered compost accelerator with beneficial microorganisms, the composter will transform biological waste into a: a) quality compost for your plants b) fermentation liquid for plants c) a biological cleaner for drains. Due to the wonderful design, instead of hiding it, you might well want to place the composter in the center of your kitchen.
AMY MACKLE
This young designer from Germany creates artworks from objects that are otherwise seen as trash. You can't tell what material has been used until you touch it, but each piece is inspired by something and that alone is an inspiration.
STYLE OF JAPAN
A new brand based in Obama city, Japan, is known for its varieties of chopsticks. They presented an intercultural dining set which includes the whole set of chopsticks and spoons for all courses. Normally, Japanese eat their food with only one chopstick and they don't use different kinds for different courses, therefore this dining culture is revolutionary for Japan, too.
KOCKUMS
A welcome return! In the late 18th century in Ronneby, Sweden, the Kockums family started to manufacture pots, buckets and hospital utensils. In 1893, the company launched a whole new product line – enamelled cookware in several different colors, though it was the soft yellow with the dark green edge the Swedish people fell in love with. But then the 1960s brought Tupperware and production at Kockums Jernverk had to stop. Today's turn-around sees a phasing out of plastic wares in Swedish households, making room for quality. Kockums has updated its color palette and reintroduced the brand with a new collection where traditional perfectly meets new.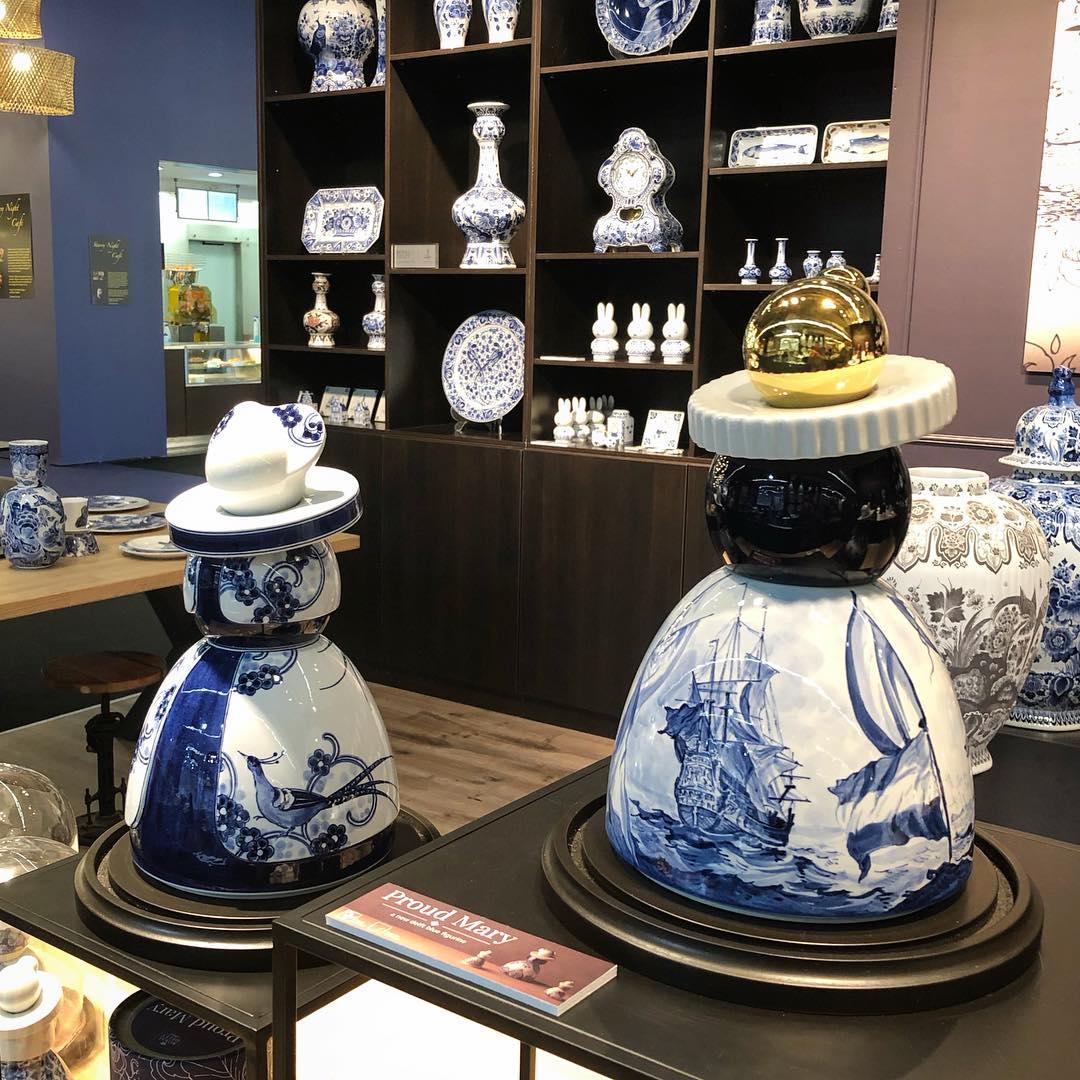 Deskgram.net
The things seen at Ambiente 2019, topics discussed at the WFTO press conference during the fair, the artworks by refugees from all over the world introduced at the MADE51 conference, even the topic of speed dating with an ethical style: everything said clearly that there is a story behind each product. Recycled products, waste issues, products made by refugees and people who connect them with local artisans, social enterprises, brand "good&mojo's" motto: you buy light, you give light to people in need, the topics chosen by Prof. Mark Braun on the designers' guided tours about keeping DNA and brand identities – all these together showed without doubt that Ambiente is far more than just a fair.
Over the last few years, eight partner countries have successfully showcased themselves at Ambiente. As India was the partner country at Ambiente this year, you could see lots of beautiful wooden handcrafted items, textiles, lamps and lighting, ceramics, the fascinating Bollywood style and even Bollywood stars too, as guests. More than 500 Indian companies participated in the show, including eco-friendly "Made in India" bamboo craft.
For the first time in 2020, the Dining area will be expanded to include a dedicated hall for exhibitors from the hotel, restaurant and catering industry (HoReCa). In this way, the world's leading trade fair for consumer goods will underline its position as an important international HoReCa trading platform for everything that matters in the hospitality industry. Moreover, in 2020, it will give this segment more space in the form of the new HoReCa Forum in Hall 6.0. In 2020, we can also look forward to the exciting subject of "The world comes to Ambiente", as the world's leading trade fair will be presenting a program in a new look and exceptional design.
The next Ambiente will be held from 7 to 11 February 2020. The expectations are truly promising.
By Sopho Bochoidze